Costumes for Cats and Costumes for Dogs! Handmade and Hilarious Creations from Japan
Cushzilla Cat Costumes and Dog Costumes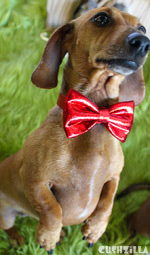 Feast on this fanciness! It's a cat or dog bow tie collar in sparkly red. Ranks at a Level 1, click to read more about the levels!
SOLD OUT

See all our stuff!
By Category:
About our Cushzilla Cat Costumes and Dog Costumes category:
The perfect photo shoot accessory to send your pet's furry cuteness over the top. Business clothes for dogs and cats, a fancy tuxedo front for prom night or a wedding, a pilot's costume for cats and dogs, Harry Potter dress robes, a Sushi Cat costume and more! Special handmade pet costumes and business wear, made by Cat Prin the Japanese Tailor for cats and imported from Japan.