Cushzilla Dog Wig and Cat Wig Collection - from Blonde Bobs to Green Spikes!
Cushzilla Cat Wigs and Dog Wigs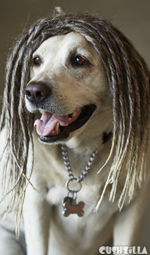 Check out the dreads mon! This rasta wig is ridiculously real-looking with brown dreadlocks and sun-kissed blonde tips.
SOLD OUT

See all our stuff!
By Category:
About our Cushzilla Cat Wigs and Dog Wigs category:
Wigs for dogs and cats in every color, complete with ear holes and adjustable chin strap.

From celebrity-styles and match-to-master colors, to just plain ridiculous; meet the best accessory for your next photo shoot or family portrait! These doggy and kitty wigs are LOL and WTF rolled into one.

Try the spikey punk dog or cat wig, the Kitty Purry cat wig, or any one of our pet wigs for hours of fun with your furry friend.